Premium Cloud VPS Servers
Private SSD Cloud VPS Servers. Deploy in one of many regions we have available.

Operating Systems
Linux OS only. For Windows OS and custom sized solutions please contact us.
Public Cloud Compute
Our high performance compute instances are perfect for your web application or development environment.
High performance and scalable
No long term contracts
Multiple geographic locations
Anti-DDoS protection
Server Comparison
High performance compute in the cloud.

All Cloud VPS Servers Include
3-5 Dedicated IPv4 IPs
RAID-1 Configuration
Full Root Access
DDOS Protection
Unlimited Databases
Fully Redundant Network
Public Cloud Features
Hosted using a OpenStack KVM architecture. Flexibility of on-demand resources to scale up from small projects to large-scale deployments.
Guaranteed Resources
With this range's guaranteed resources, you can harness the full power of your server at any time. Resources are 100% dedicated to you, providing your projects with all the power they need.

Scalability
If you are not sure what sort of CPU/RAM balance you need, you can use these instances for a smooth start, with the ability to scale up or down in the future.
Advanced Management
Temporibus autem quibusdam officiis debitis
rerum necessitatibus saepe eveniet, voluptates
repudiandae sint et molestiae.

SSD & NVMe Disks
To ensure optimal read/write performance, hypervisors host the virtual machine disks locally. These storage points are supported by a RAID-mounted SSD disk array, to ensure durability and efficiency for your data.

Anti-DDoS
All instances include our industry-leading anti-DDoS protection at no additional cost. This ensures you are always covered in the event of an attack.
ISO/IEC 27001, 27701 and health data hosting compliance
Our cloud infrastructures and services are ISO/IEC 27001, 27017, 27018 and 27701 certified. These certifications ensure the presence of an information security management system (ISMS) for managing risks, vulnerabilities and implementing business continuity, as well as a privacy information management system (PIMS). Thanks to our compliance, you can host healthcare data securely.
100% Satisfaction Guarantee
We offer a full 7 day money back guarantee. If you are dissatisfied or unhappy with our service at any point within 7 days of your initial order, we will refund 100% of your payment — no questions asked!
Change hostname
Set reverse dns
Change root password
API access
Change VNC/console password
Manage backups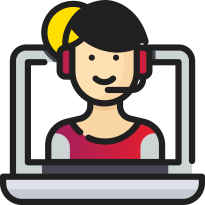 Self Managed
Perfect for tech enthusiasts and professionals who want to managed and support the server themselves. We are hands off!
Fully Managed
Not comfortable managing & supporting the server on your own? No problem! Let our professionals take care of any issues with your server.